Countertop Basin Buying Guide
What Is a Countertop Basin?
A countertop basin is a sophisticated design accessory that sits on a level surface, such as a bathroom shelf unit, flat worktop, vanity unit, or cabinet. The basin is a standalone unit that isn't connected to the wall, and the plumbing is concealed underneath.
These features accentuate its appeal further. As a countertop washbasin sits smack on top of the level surface and isn't inside the unit, it appears as if a bowl is placed on the surface. That's the reason it's also referred to as a sit-on bowl or bowl sink.
In this detailed post, we'll look at the different styles of countertop basins, the benefits of having a countertop basin, how to install a countertop basin, the style of taps that go well with countertop basins, and more.
---
What Different Styles of Countertop Basins Are There?
Rectangular Countertop Basins
A rectangular countertop basin is comfortable, functional, and complements most bathroom furniture to perfection. The minimalist rectangular outline is simple in design. You can count on this beautifully designed porcelain basin to add a stylish twist.
Whether your décor is traditional or contemporary, you can complete your dream bathroom with this strikingly elegant countertop washbasin. The two main features of this vessel sink are it's affordable and installation is a breeze.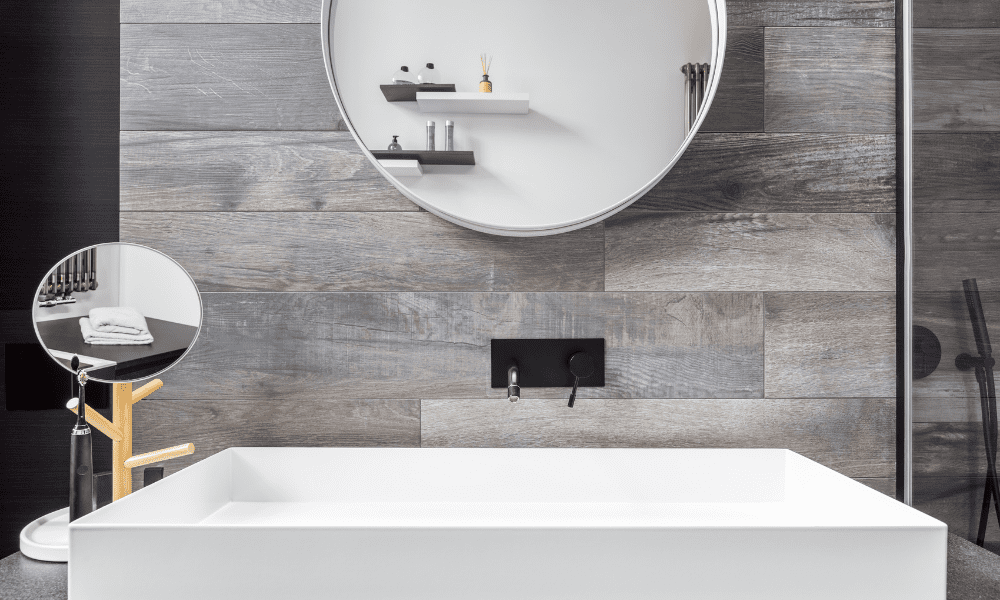 ---
Square Countertop Basins
A square countertop basin is a fine blend of trendsetting design and functional innovation. The perfectly symmetrical proportion of this ceramic/metallic accessory effortlessly brings together minimalism, clarity, and precision. This one-of-a-kind centrepiece looks marvellous. You don't need to worry about the size of your bathroom, as the timeless shape will complement a bathroom of any size.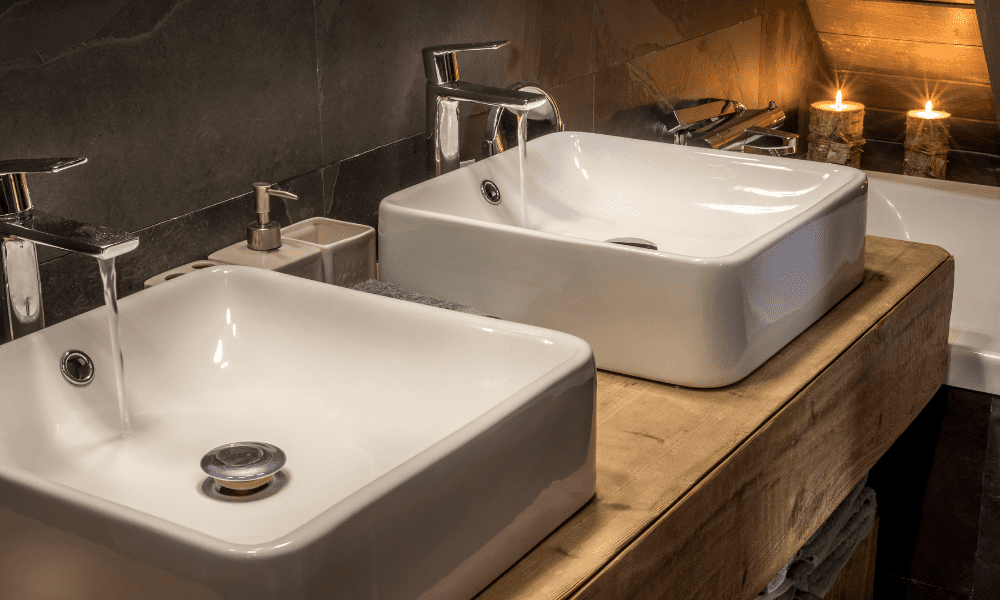 ---
Round Countertop Basins
A round countertop basin has a gentle, curved design. The design is simple. Yet, you can create a truly unique bathroom. Some models of this extremely durable basin come with a stain-resistant vitreous china coating. You also get an extended guarantee for this value-for-money buy. Another feature of a round countertop washbasin is you can choose from a wide range of matching freestanding taps.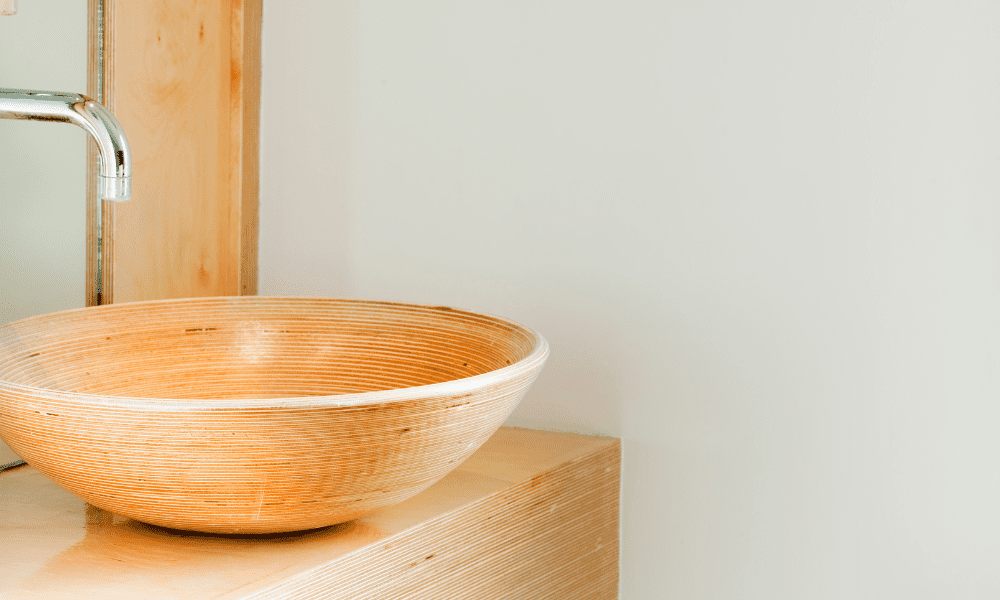 ---
Natural Stone Countertop Basins
Interested in giving the perfect finishing touch to your bathroom?
A natural stone countertop basin would be a great eco-friendly choice. This is a genuine fit-and-forget washbasin. Its immaculate appearance can take the visual charm of your bathroom to the next level. Never mind about making a statement. The natural beauty of this countertop washbasin will brighten your mood every time you look at it.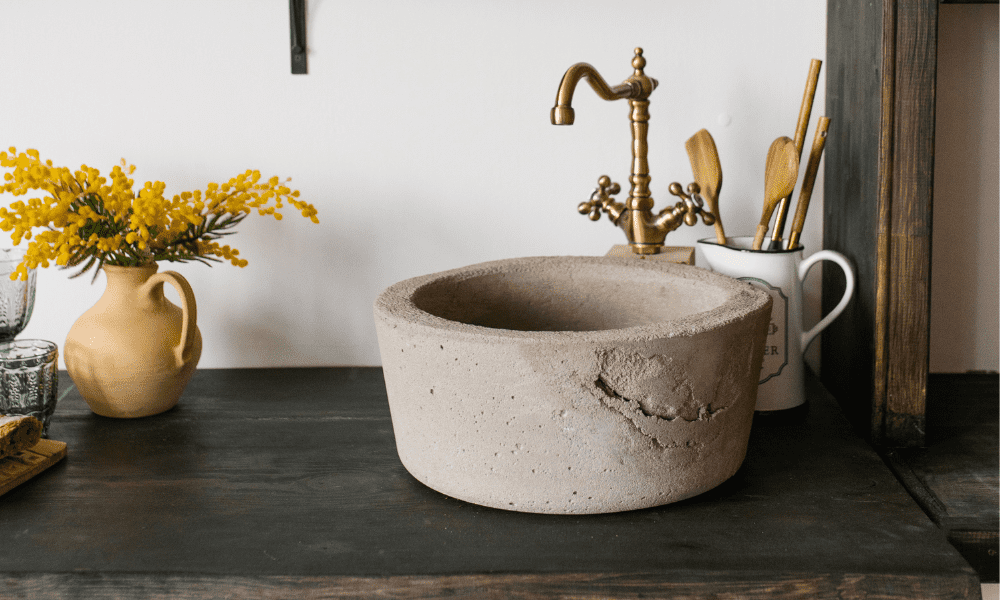 ---
What Are Some Benefits of Having a Countertop Basin?
1. More Space Availability
A countertop basin is a practical option, as you get the best of both worlds. You often get generous storage space, and countertop sinks are more contemporary than traditional vanity units. Since they are installed at a comfortable height, you get more storage space than you would with wall-mounted or pedestal sinks.
Another advantage is that the wall strength in your bathroom doesn't matter. This is because, unlike other types of basins, you don't need to use mounting racks or screws to install a countertop basin. So, you can install this washbasin even if the wall is flimsy. Also, since you don't need to fix a pedestal, you can maximise space utilisation.
2. Sleek Contemporary Choice for Empty Nesters
The ongoing Covid-19 pandemic has resulted in unexpected lifestyle changes. It's time to rethink some design choices. A key change is the wish of empty nesters for more aesthetically pleasing living quarters. Redecorating a new empty home is sure to provide a twinge of excitement.
Here, it's relevant to say that the minimalist design of a countertop basin completes their vision of a crisp, contemporary bathroom. A premium countertop basin promises to make their bathroom feel fresh, as well. Also, the choice of eye-catching colours fulfils their desire for individual expression to perfection.
3. Less Floor Spillage
Countertop sinks have higher sides when compared to other sinks. The extra height can check excess water from spilling over the washbasin and onto the counter/floor. The basin is deep and can hold plenty of water inside. For this reason, a countertop basin is typically more spacious than other types of basins. Hence, there's less floor spillage.
---
How to Install a Countertop Basin?
A countertop basin is one of the simplest types of basins to install.
You don't have to fix the basin to a wall, and there's no need to conceal the plumbing lines. Also, you don't have to worry about the size of the bathroom shelf unit, worktop, vanity unit, or cabinet. A flat surface with a hole in the top to accommodate a drainpipe would suffice. Just make sure the surface of the unit can support the weight of the countertop washbasin.
Visit our post How to Install a Countertop Basin for a detailed explanation.
---
What Style of Taps Go Well with Countertop Basins?
Wall-Mounted Taps
A wall-mounted basin tap complements a countertop basin, both functionally and aesthetically.
However, it's important that you fix the tap at the right point on the wall because the water must hit the wash bowl at the correct angle.
For instance, a high tap doesn't go well with a shallow washbasin, as the water would hit the wash bowl at the wrong angle. Similarly, a low tap that barely touches the edge of the rim of a high washbasin wouldn't be the right fit either.
Choose a wall-mounted basin tap that offers enough space for washing your hands and face.
Take care to ensure the tap does not restrict the free space at the washbasin. You have several options with cool curves and geometric design in a sparkling chrome finish that are guaranteed to make the basin tap a focal point.
If the tap comes with an extended guarantee, you don't even have to think of replacing the tap for a long time.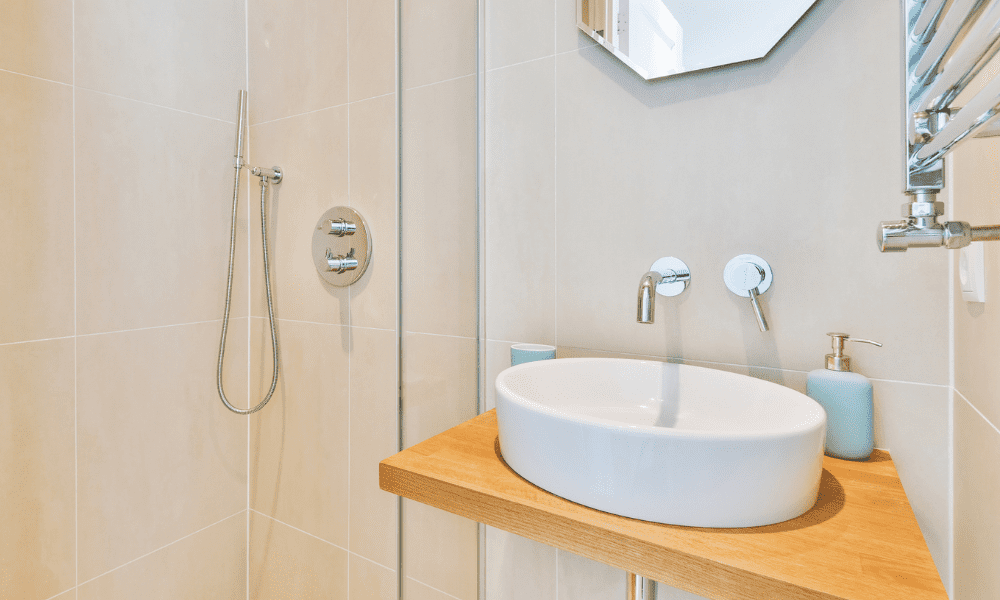 ---
Tall Basin Mixer Taps
The extended height of tall basin mixer taps is a natural fit for countertop basins. These taps promise more comfort and more fun, as the risk of water splashing is non-existent.
Since there's more elbow room between the tap spout and the rim of the sink, it's easy to create perfect harmony at the washbasin. With this tap, you'll simply love your interaction with water.
The high spout gives tall basin taps a sleek and stately appearance. The subtle variations in the spout, handle, and colour means you have several options. You can also opt for a tap with a single lever or two levers for cold and hot water. A traditional tall basin mixer tap is a great option for a Victorian bathroom. A premium tall basin tap with an integrated lighting effect is yet another excellent choice.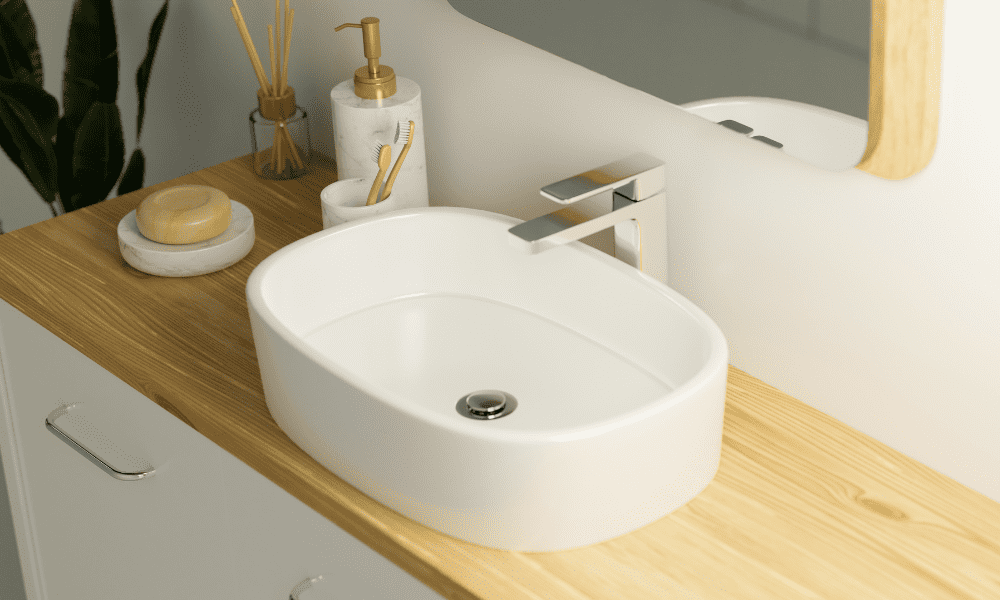 ---
How High Should a Countertop Basin Be?
The counter height of the bathroom furniture, flat worktop, or vanity unit in UK homes is typically 32 to 34 inches.
The height of the countertop basin is more important because a vessel sink sits above the counter. Hence, you'll need to place the sit-in bowl on a lowered vanity unit or worktop to compensate.
The top of a countertop washbasin rim should be anywhere between 29" and 36" high, depending on many factors.
The most important one is, of course, the height of the user. All these years, 32" was the norm. However, modern standards have revised this figure upwards to 36".
Since the sit-on bowl will add an extra 5–6 inches, the standard comfort height for vanities would be 29" to 30".
To arrive at the right height, the rule of the thumb is you should measure from the bathroom floor to approximately your waistline.
Pros and Cons of Using Countertop Basins
Pros
The style and design are suitable for both contemporary and traditional aesthetics.
Quick and easy to install with simple plumbing inlets/outlets.
Elegant yet highly functional and can be installed on any vanity unit.
The compact dimensions make this basin perfect for a small bathroom.
Allows more space for toiletries and other bathroom essentials.
Made of an assortment of materials such as ceramic, plastic, natural stone, brass, and more.
Cons
Some designers consider vessel sinks a passing fad that will ultimately become obsolete.
Not easy to clean as dust and dirt can get stuck in the space between the bottom of the bowl and the countertop.
Durability issues as the rim of the vessel is thin and isn't strong, and hence, may be prone to cracks or damage. This problem is, however, rare.
Correct installation of basin tap is vital; otherwise, it will lead to water splashing issues.
Most vessel sinks don't have an overflow.
---
Are Countertop Basins a Practical Choice?
A countertop washbasin is a practical choice as its high sides ensure that water doesn't splash outside the sit-on bowl.
The location of this basin on the countertop makes it more comfortable and convenient when compared to other basins. Since vessel sinks are available in varied sizes and shapes, they are suitable for bathrooms of any dimension. Also, it's easy to find the right design and style that complement the interior theme.
A Countertop washbasin also presents you with plenty of storage choices. You have greater flexibility as you can opt for a large vanity unit, a small vanity unit, or a wall-hung vanity unit of any size.
Depending on the bathroom décor, you can even opt for a plain tabletop or open shelving.
---
Shop Counter Top Basins
At Bathroom City, we help you create exceptional bathrooms. We are one of the oldest UK Bathroom Furniture specialists with over 35 years of experience.
Give your bathroom that additional touch of luxury by picking the right piece of Bathroom Furniture, Basins, Baths, Shower Enclosures & more.
---
Other Articles You May Like: