Wet Wall vs Tiles : The Better Alternative?
When it comes to choosing your bathroom wall finishings, bathroom tiles might seem like the obvious choice. However, wetwall panels have become a more popular choice in recent years, and you may find that installing a wet wall as an alternative to tiles is an ideal solution for your bathroom needs.
---
What is a Wet Wall?
A wet wall, hydro panel, or shower wall, is a large panel that will fully waterproof the wall area around your shower, bath, sink or any area that you would ordinarily tile. The wet wall panels come in a variety of sizes that can be cut to your specific bathroom size and needs, are easy to install and do not need to be grouted. This makes them easy to maintain and keep looking new.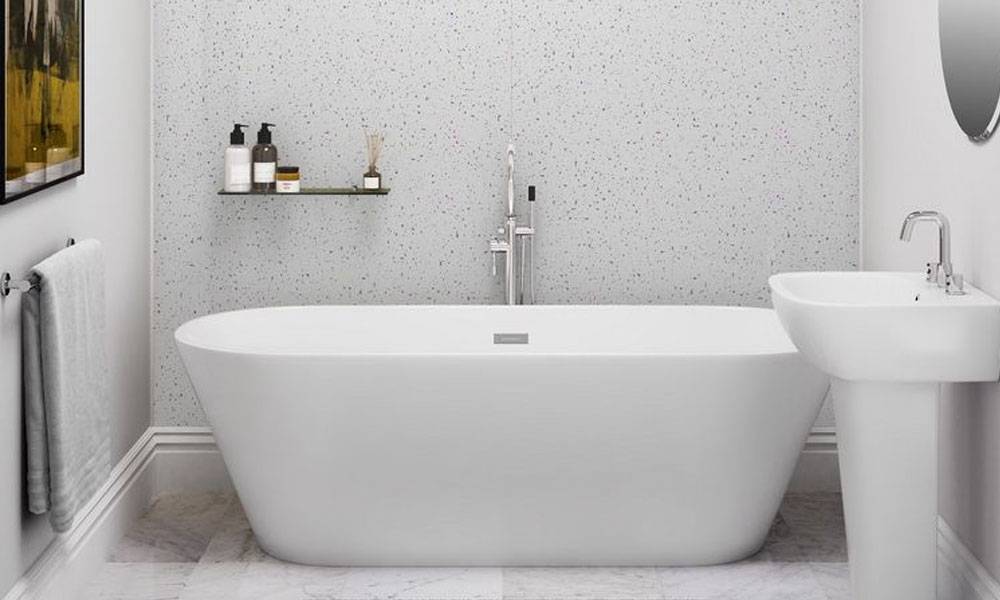 ---
For what type of Bathroom is a Wet Wall best?
Wet Wall is a fairly modern concept, so the wet wall looks more at home in a contemporary bathroom suite. However, with a varied set of modern & traditional patterns available, it can be used for any style of bathroom. Some of the wet wall finishes include organic looks such as stone, slate and marble, as well as stylish designs that incorporate elements like glitter.
---
What sizes do Wet Wall panels come in?
The Wet wall panels usually come in sizes such as 600mm, 900mm, 1000mm and 1200mm but can be cut to any size and be as tall as your bathroom requires.
---
What are the benefits of using a Wet Wall?
A Wet wall is 100% water-proof, and hence ideal for wet areas
It is cost-effective and quicker to install as compared to tiles. It requires an average of 1-2 hours whereas tiling can take up to 2 days
It is a quick, easy fit and is easy to keep clean due to lack of grouting, which is a necessity with tiling
A Wet wall is also a low-maintenance and hygienic choice, less likely to cause bad odor or growth of mould in the bathroom
Wet walls are usually durable and come with a range of domestic use warranties starting from 1-year, 5-year and 10-year options
---
What is the price-range for Wet Wall panels?
At Bathroom City, Wet-wall panels come in a price range starting from £75 per panel for plastic panels, going up to £350 per panel for Ply & MDF panels.
---
Wet Wall Versus Tiles: The Better Alternative?
Tiles maybe a more suitable choice if your bathroom suite has a traditional or period design. They require more regular maintenance than Wet Wall/shower walls, as grout can harbour mildew and mould. Ultimately though, well-maintained tiles may last longer than the wet wall.
That said, wet wall panels are much easier and cheaper to replace than tiles, as well as require less effort to install. This makes installing a wet wall a great way to update and change the entire look of your bathroom suite.
Finally, depending on your personal tastes, the rest of the look of your suite and the amount of money and effort you are willing to put into decorating your bathroom, there is no real right or wrong answer. Wet wall or tiles, the choice is yours!
---
Shop Wet-Walls
Now that you know all about wet-walls, why not take a look at our online collection of Wet-wall Panels?
Bathroom City is the UK's leading bathroom specialist and manufacturer. With a well-established factory showroom in Tyseley, you can be confident that we are not simply an online business. We stock some of UK's leading Bathroom brands, so shop online or visit us in store for your complete Bathrooms needs.
---
Other related articles that you might also be interested in: