What are Shower Valves? Different Types of Shower Valves For Your Bathroom
A shower valve performs two essential functions – it controls the rate of water flow and the temperature of water in your shower. The two main varieties of shower valves depending on their functionality are Manual Mixer Valve and Thermostatically Controlled Valve. Most shower valves – other than the basic ones – come with the diverter option. You can flick the diverter switch to turn on the taps or permit water into the shower head. Some premium models of shower valves allow you to use the taps and the shower at the same time. 
Helpful Tips to Find the Right Shower Valve
Navigate to any section of this post by clicking on the links above.
---
1. Exposed Shower Valves Vs Concealed Shower Valves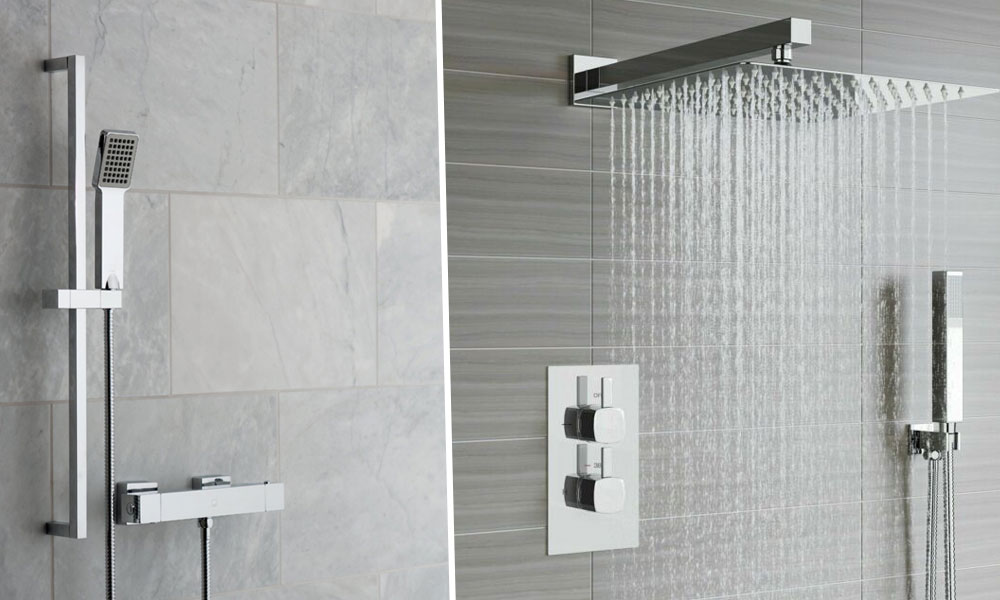 Depending on the design features, we have two types: Exposed Shower Valve and Concealed Shower Valve. An exposed shower valve has the outlets and connected pipes (mostly, chrome-plated) visible above the tiles on your bathroom wall.   In a concealed shower valve – as the name implies – only the controls are visible. The connecting pipes and water outlets are hidden inside the wall. A concealed shower valve complements a contemporary bathroom as it brings a fresh and elegant look to the shower unit. 
---
2. Manual Shower Valves Vs Thermostatic Shower Valves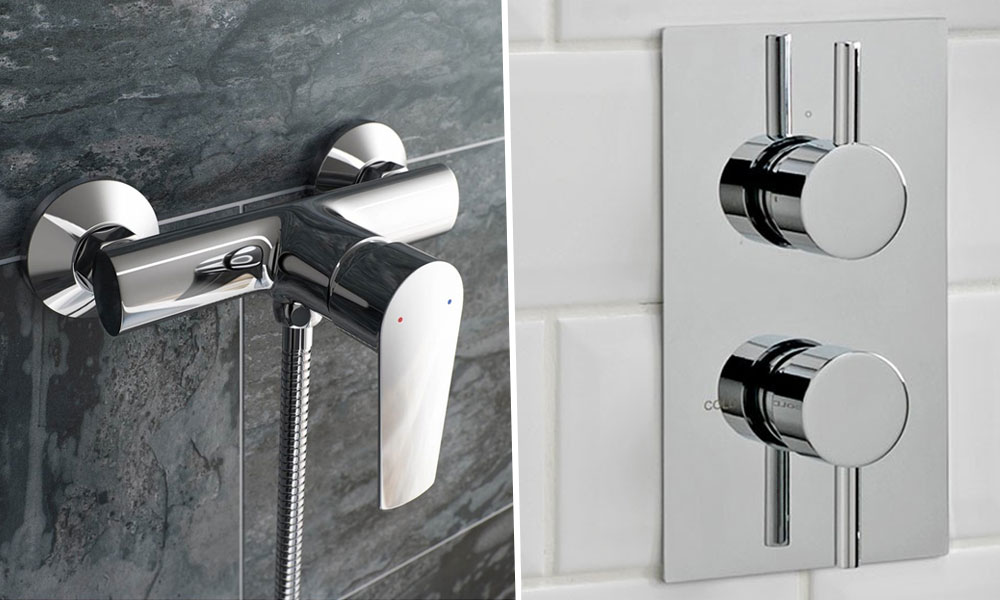 A manual shower valve is incredibly popular due to its simplicity and ease of use.This valve has only one lever that permits you to control the water flow as well as the water temperature. The control lever enables you to attain a reasonably good balance of water pressure and temperature. This valve is adequate for most secondary bathrooms.  The intelligent design of a thermostatic shower valve allows you to maintain a comfortable temperature always. The main beneficial feature of this valve is that it limits the temperature of the water from exceeding a preset value. And this feature is extremely useful if maintaining a child-friendly temperature is important to you.
---
3. Diverter Valves
Diverter Shower Valves are versatile little units. This eye-pleasing valve works as intuitively as you desire, depending on how many outlets are at play.A single handle controls the direction of the water flow to the desired outlet – whether it's the shower handset, slide rail kit or deck-mounted bath tap. In effect, a 3-way diverter shower valve allows you to deliver pre-mixed, temperature-controlled water to the outlet you desire. You can turn on the cold and hot water taps to get the water to your desired temperature. You can then flick the diverter valve to permit the pre-mixed water to flow out from any outlet you want. This feature is especially handy when you want to give a bath to your dog. Diverter valves are available in four options: 2-way, 3-way, 4-way and even 5-way.
---
4. Digital Shower Valves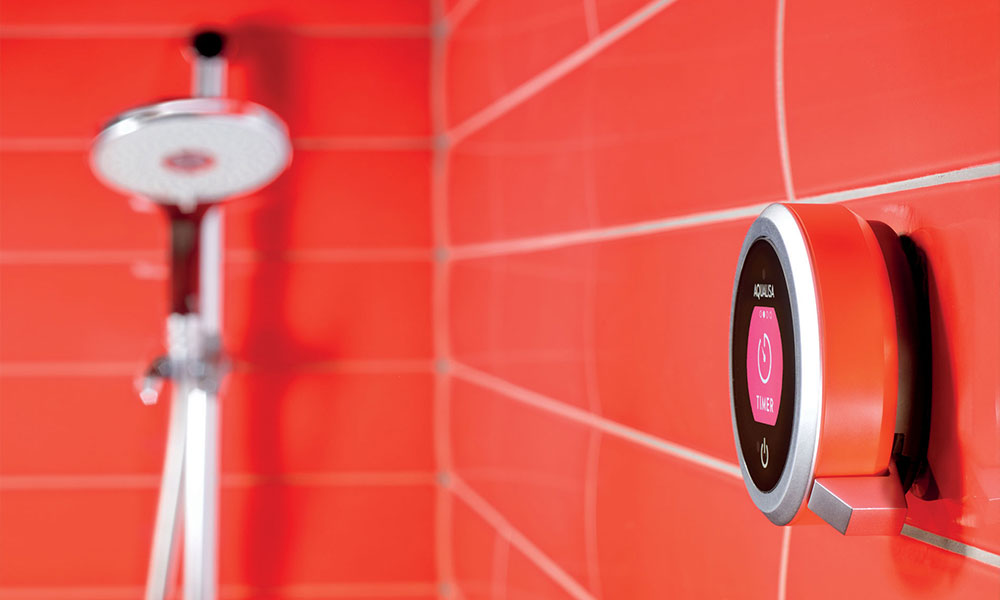 The universe of shower valves is advancing fast. And as far as the digital bathroom industry is concerned, seeing even greater developments has become the norm.Digital Bathroom Showers are dominating the marketplace. And switching to digital is an excellent move because you can enjoy several innovative features that include fully programmable water temperature, Bluetooth connectivity, wireless shower controllers, breathtaking visual components that use LED lights, and more. The main advantage of a digital shower valve is you can make accurate water pressure and temperature adjustments. You can also avoid getting wet by turning on or turning off the shower remotely.
---
5. The Price
Consider the features you want in your shower unit, specifically the ones listed under digital shower valves.While a premium shower valve will cost £704, a bar thermostatic valve with an outlet at the bottom will cost £50. Mid-range shower valves are priced from £147 to £281. If maintaining a child-friendly temperature is vital to you, then a digital shower valve is the right choice.
---
Shop Shower Valves
Choose a shower valve that complements your shower unit. Sleek, angular designs are perfect if your overall bathroom decor is contemporary.Most shower valves, regardless of their price, come with a 5-year manufacturing warranty. So irrespective of the shower valve you choose to buy, you are assured of a stress-free and secure product.   At Bathroom City, we stock a wide selection of thermostatic shower valves, concealed shower valves and exposed shower valves. We are confident you'll find the right shower valve for your shower unit. 
---
Other related article that you might also like: