5 Double Sink Vanity Units for Your Family Bathroom
Sharing a sink with your spouse, kids or anyone else can be a challenge, even at the best of times. But sharing bathroom space is especially taxing when everyone has to get ready at the same time. So, in a family bathroom, having two sinks can be a great time saver.
The installation of two basins side by side doesn't mean you have to compromise style for practicality. The other advantage of a double sink vanity unit is you can keep your bathroom essentials well organized. It also presents you with a sense of unity, as two people can use the bathroom comfortably.
---
Our Recommendations of Top Five Double Basin Vanity Units
It's obvious that a double basin vanity unit can make your life easier. Let's take a quick look at some of these double basin Sink units that deliver the best value for money. 
In case you'd prefer smaller Sink Units, do refer to our recommendations of the Top 5 Basin Sink Units on a Budget.
1. Wall Hung Double Sink Vanity Unit (1200 mm wide and 1500 mm wide)
The space-efficient Jivana wall-hung Double Basin Vanity Unit is available in two sizes – 1500 mm and 1200 mm. Both the options bring a generous double sink dimension to your family bathroom.  

The brilliant white ceramic design of the 1500 mm option features twin Counter-Top Basins. 
The twin his/hers Basin design of the 1200 mm option is equally impressive. The tough, lightweight and easy clean basins feature a high-gloss stone glass construction. 
The sophisticated lines of this Double Basin Vanity Unit complement the aesthetics of any contemporary bathroom. The main feature of this competitively-priced unit is it is fully guaranteed. So, this install-and-forget bathroom furniture piece will last a long time.   
For a complete look, you can opt for gold finished handles for the two spacious drawers and gold-finished taps and wastes for the basins.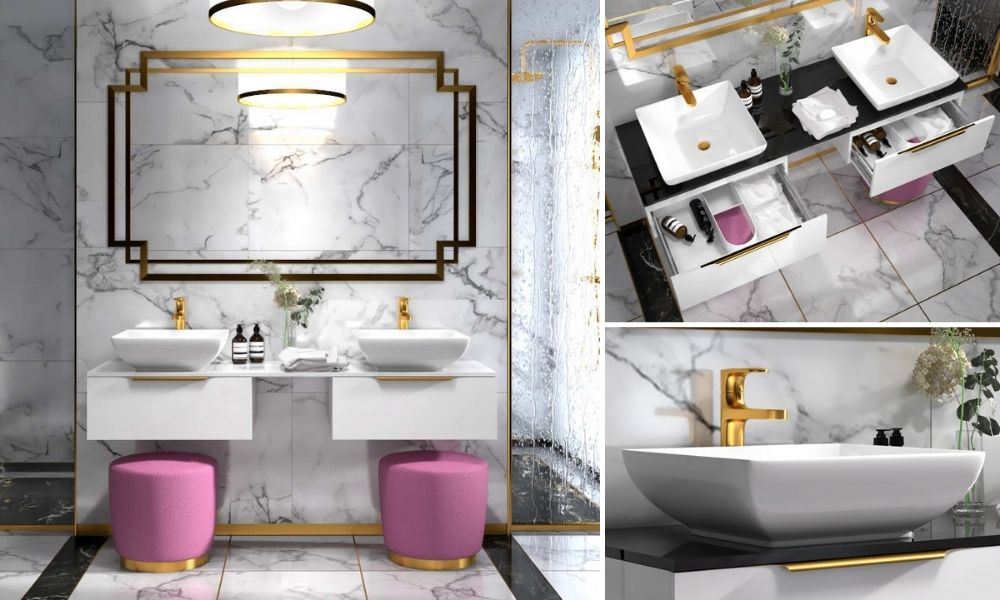 ---
2. Wall Hung Double Basin Vanity Unit with 4 Drawers 
The four deep drawers of the Sonix 1500 Glass Top Double Sink Unit empower you to say goodbye to bathroom clutter. Another useful feature of this Wall-Hung Unit is it allows you to get the maximum out of your bathroom wall. 
 
The most distinctive feature of this double basin vanity unit is its 15 mm glass top surface. 
 
This surface complements the high-gloss acrylic material that coats the doors and sides of the unit. The glass top also gives the unit a smooth, stylish look.  
 
The four large drawers present you with ample space to hide away all your bathroom essentials in an organized manner. There's also enough open storage space in the centre of the unit to keep the daily use stuff you want to reach quickly. 
 
Everything about this Double Basin Vanity Unit signals contemporary bathroom beauty – right from the two tall basin taps to the Klick Klak chrome-slotted wastes and from the drawer runners to the door handles.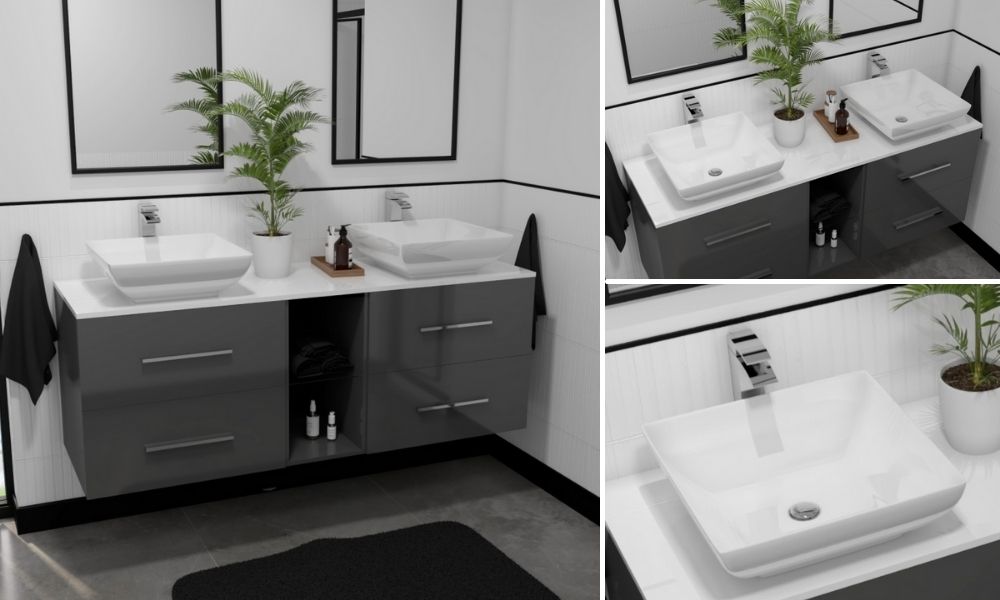 ---
3. Freestanding Double Basin Vanity Unit: Handle-less 4 Deep Drawers (Available in Grey and Cashmere Gold) 
The distinctive feature of the Pemberton 1200 mm Freestanding Grey Double Basin Unit is its handle-less design. Luxury anthracite acrylic material has been used to manufacture this 4-drawer, "His" and "Her" double basin vanity unit to the highest standards.   
The handle-less design of the drawers creates a streamlined appearance of the entire double basin vanity unit. This unique design is not only beautiful, but it's also efficient in terms of effective storage. You don't need to worry about assembling this freestanding unit, as it comes fully assembled.   
 
This unit is available in different options with different accessories. 
 
One option is you can buy this double basin vanity unit with a matching handle-less, 2-door tallboy. 
 
Another option is you can buy two luxury chrome basin taps for this unit. In yet another option, you can buy an illuminated mirror with a shaver socket along with this unit.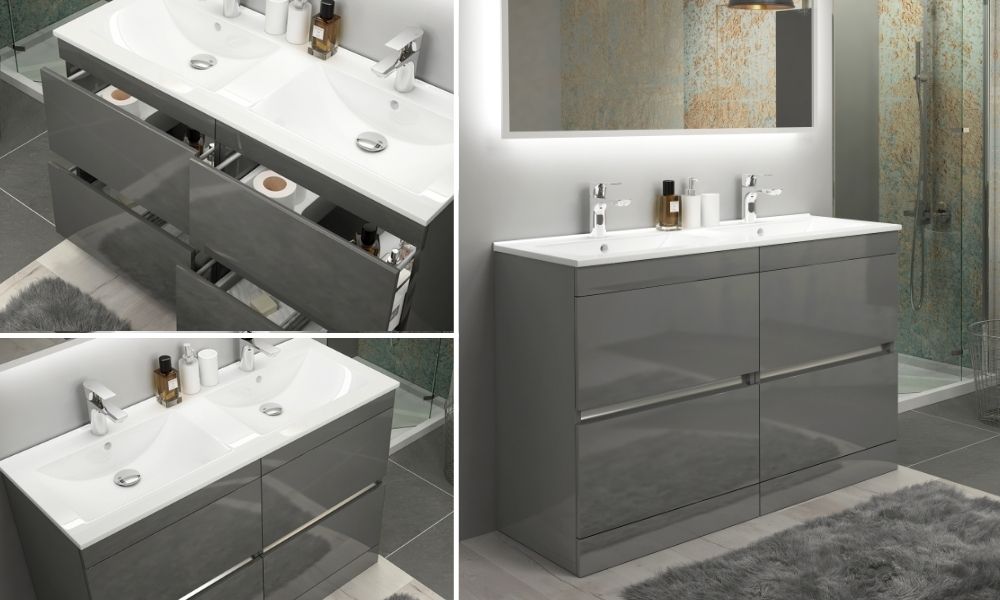 ---
4. Freestanding Double Sink Unit with Storage - 4 Deep Drawers White and Grey Options  
The Patello 1400mm White Gloss Double Sink Vanity Unit comprises three separate units. You have the freedom to rearrange these units to suit your plumbing needs. 
 
This double sink basin unit blends storage and style to perfection. Four soft-closing drawers and a small independent storage unit at the center complete the storage options in this versatile vanity unit. The white glossed glass finish of this double sink unit adds a luxurious feel, keeping your bathroom on-trend. 
 
The acrylic doors of this unit are different from the usual spray-painted doors. They are built to last and present the vanity unit with a mirror gloss finish. 
 
Every component of the unit is built for lifetime durability. The door handles are made of high polished chrome, and the drawer runners are manufactured to the highest standards.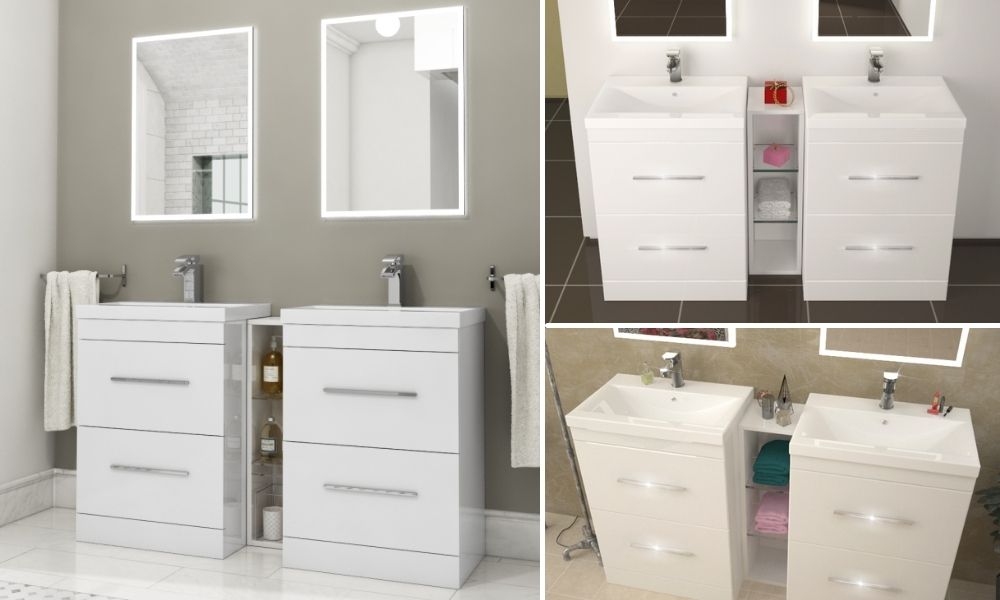 ---
5. Fitted Furniture – Oliver Range 
The Oliver Range of Fitted Furniture is available in three color options: White, Anthracite Grey, and Dove Grey. This 1500mm Double Sink Vanity Unit comprises two separate vanity sink units (dimension: 600mm each) and one independent floor storage cabinet (dimension: 300mm). The two vanity units and the storage cabinet fit together seamlessly. 
 
This glossy furniture unit is made of durable acrylic-coated Medium Density fiberboard (MDF). The twin "his and hers" sink set can modernise your family bathroom in a jiffy. Also, the generous storage space and the double basin design create an uncluttered, streamlined look. 
 
The Oliver fitted furniture range can be customized to fit your bathroom wall to wall. 
 
You can add the following ancillary items to your purchase order to match the dimensions of your bathroom: worktop edging, end decor panel, and luxury filler piece.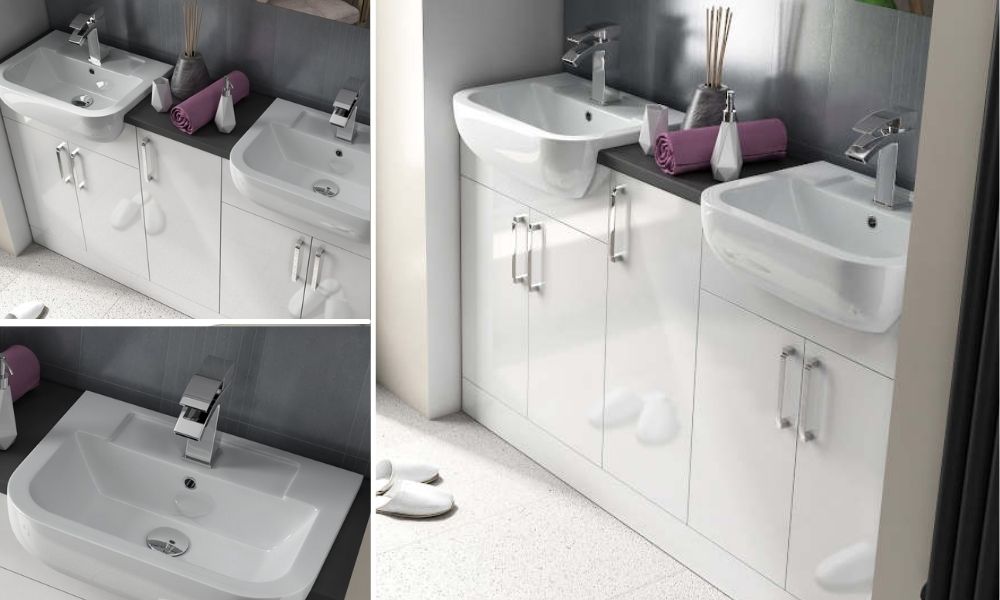 ---
Shop Double Sink Vanity Units in the UK 
Bathroom City stocks both modern and traditional double sink vanity units that are appealing and competitively priced. You can choose from a plethora of finishes, colours, and sizes. We stock products from renowned brands, such as Jivana, Patello, Sonix, Oliver, Pemberton, Solitaire, and more. Every vanity unit is manufactured from resilient materials and guarantees superior style and lasting performance.
---
Other related articles that you might also like to read: