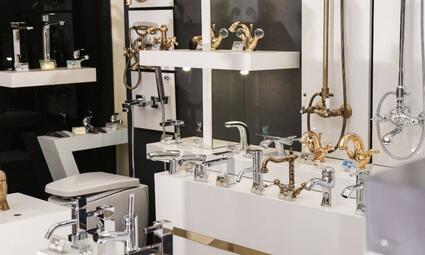 7 Min Read
Taps are an essential element of any bathroom - not just functionally but visually they can make or break a bathroom design. With thousands of different designs on the market, the sheer choice can be mindboggling which may lead to taps being bought that are unsuitable.
For this reason, our experts at Bathroom City have compiled a five-point checklist to help you easily find your perfect taps. With our know-how, you'll be able to avoid the most common pitfalls and ensure your new taps will complement your bathroom and function effectively for many years to come. 
---
1. KNOW YOUR WATER PRESSURE
To get a decent flow of water from your taps it is vital that you choose ones that are appropriate for the water pressure in your home. If you have a gravity-fed system it means you have low pressure while a combination boiler system means yours is medium to high pressure.
As a general rule most single-lever mixers, floor-standing, and wall-mounted taps will need high water pressure to function effectively, while taps with two handles and pillar taps can function efficiently with low pressure.
A low-pressure tap will work well with the high-pressure system, however using a high-pressure tap in a low-pressure system will result in a slow water flow, meaning that it will take more time to fill a basin and even longer to fill a bath.
Always check that the tap you want is suitable for your water system, otherwise when you want a bath you could end up waiting for half an hour for your tub to be filled.
---
2. CHECK THE TAP HOLES
Your choice of sanitary ware dictates the type of tap of should buy. Take note of the number of tap holes on your bath, basin, or bidet as your tap will need to match.
Basins
Most bathroom sinks come with either 1, 2, or 3 pre-drilled tap holes. Many modern basins are likely to have a single tap hole that will accommodate a mono mixer tap.
Traditional-style basins are likely to come with two holes for separate hot and cold pillar taps. A 3-tap hole basin accommodates hot and cold handles along with a separate water spout.

Bathtubs
Most standard acrylic baths come without tap holes so your installer can simply drill the holes needed for your choice of bath taps. Drilling holes are not possible with stone resin, steel, or cast iron baths, so you are limited to using pre-drilled holes or if there are no holes you'll need to select a separate floor-standing or wall-mounted tap.
Bidets
Bidet taps are easy to buy as the majority of bidets on the market have a single tap hole.
---
3. SELECT THE STYLE
The style of tap you choose has a big impact on the overall look of your bathroom and in some cases, beautiful taps can become focal points in themselves. If you want to give your existing bathroom suite a new lease of life then a simple way to do this is to just replace tired old taps.
Ensure you choose taps that all complement each other visually - there's nothing worse than a bathroom that has mismatched taps.
Traditional
If you want to capture the essence of yesteryear then choose taps with classic features such as cross-head handles, exquisite detailing, and Edwardian-style ceramic inserts. Basins with traditional pillar taps and baths with ornate bath shower mixers evoke a timeless elegance that never looks dated.  
Contemporary
For a more cutting-edge look then choose contemporary taps with minimalist designs, clean lines, and geometric styling. Contemporary taps are available with modern features such as waterfall spouts and touch-sensitive operation.  

---
4. WHAT'S IT MADE OF?
If you want a high-quality tap that stands the test of time, then there are several aspects that indicate a superior standard of construction.
Solid brass
Where possible choose taps made of solid brass as they are extremely resistant to corrosion. While recycled brass is most often used, there are models on the market from luxury tap manufacturer Crosswater that are made of pure "virgin" brass.
This metal contains no impurities which means that the water doesn't have the usual strange taste normally found from regular bathroom taps.
Ceramic discs
Taps that contain ceramic discs rather than traditional rubber washers are much more hardwearing and resilient to wear and tear, making them a longer-lasting option. The majority of ceramic disc taps require only a ¾ turn to go from being off to being on which makes them easier to use.
---
5. THE PERFECT FINISH
We've looked at what's inside the tap so now it's time to look at what's on the outside. The finish of the tap is another important factor in terms of practicality and overall bathroom design.
Chrome
Chrome is the most popular finish for bathroom taps – the vast majority of taps on the market are finished in this way. Chrome-plated taps are resistant to corrosion and scratches while their shiny, reflective finish is easy to clean and creates a clean, modern look.
Gold
Gold taps have always been a popular choice in period-style bathrooms, although they have gained a reputation for peeling and tarnishing as the gold finish was only plated-on rather than dipped.
However, an increasing number of new taps feature a finish known as "Antique Gold" a lighter, shinier chrome-gold that is more robust as it has been dipped.
Be aware of the colour difference between the old darker gold and new Antique Gold taps if you are looking to replace like-for-like.     
Nickel
Another relatively new finish that is increasing in popularity is nickel, with prestigious brassware brands such as Arcade using it to give their taps a high-class finish. A nickel finish combines strength and durability with a lustrous light gunmetal look but it also comes with a premium price tag.
---
Bathroom Taps at Bathroom City
At Bathroom City we have a huge range of beautiful taps to choose from to suit all budgets from value ranges through to premium brands such as Crosswater, Burlington, and Vado.
With hundreds of basin, bath, and bidet taps in traditional and contemporary styles in stock, you are in the best place to find the perfect taps for your bathroom.
---
Other related articles that you might also be interested